What is a backlink in SEO | What are backlinks?
Backlinks are a very important SEO factor in SEO that's why we never ignore it.
In this article, we discuss the following topics-
#1. What are backlinks?
#2. How do backlinks work?
#3. How can create backlinks (Backlink building)?
#4. Benefits of backlinks?
#5. How can check backlinks?

What are backlinks?
Backlinking is the link between your and any other web page. Sometimes we called it "bounded links" or "incoming links" or "One-way links ". Search engines (google, bing, and others) consider the backlinks as a "vote" for your website to identify your contact quality.
How can backlinks work?
Backlinks are give the way to any user and search crawlers come to your web page. They present your webpage on other web pages or your own other( here we use the interlinking term for backlinks).
There are two types of backlinks
Dofollow
It is accrual affecting our SERP(Search engine result position) because of using these backlinks the user, the search engine crawlers, have come to your web page.
When you create backlinks try to create "DOFOLLOW" backlinks as possible.
Nofollow
Nofollow backlinks don't usually influence the linked page's rankings—although they can.
Why backlinks are important?
There is a
lot of benefits (importance ) of backlinks
. As we talk above, search engines consider your backlinks as a "vote" to rank your articles in the search result, which means more backlinks --> more vote and improve your
ranking in search results
.
Ranking
According to ahrefs the number of backlinks from unique websites (referring domains) correlates strongly with organic search traffic.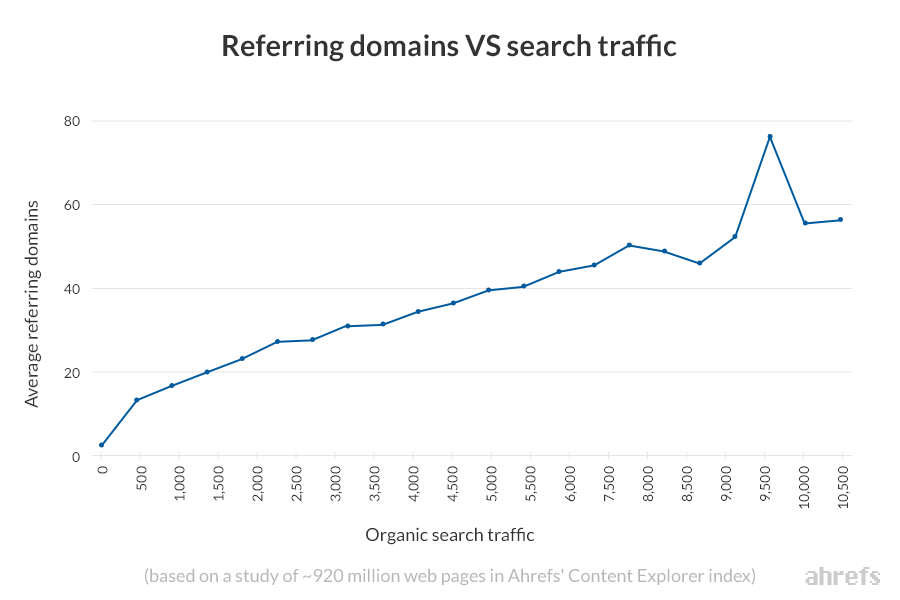 Referral Traffic
When you build backlinks from high authority (popular) web pages, you get extra traffic because they are hyperlinks linking your web page.
Availability
Every day, millions of posts are posted on websites that's why searchings take time to discover your post but if you create backlinks from popular pages then search engines recognize your post fast and available quickly in search engines as compared to if you do not have any backlinks.
How can create (building) backlinks for a website or blog?
Backlink buildings art and if you have then you defiantly see the benefit of backlinks in SEO. Backlinks are best practices for SEO There are many ways to create backlinks for your website.
Write a guest post
This is the most common way to create backlinks for your web page. This is not easy but when you have done it then you defiantly get a high-quality backlink.
How can write a guest post?
If you want to write the guest post then here are some steps that you help it.
Step1 = Search your blog niche-related high authority websites that accepting guest posts.
Step2 = Find Contact info of the author/owner of the website that you choose for the guest post.
Step3 = Send an e-mail to the author that you are interested in write a guest post for them.
Step4 = If the response is positive then-
Write a high-quality post according to the guidelines and use an interlinking strategy in the post to get more backlinks
Finally, send it to the author of another side.
Use Broker link building strategy
This is also a good method to get backlinks for your website.
Simply follow the following points to create backlinks for your website using a broken link building strategy--
Check easily broken links using the following tools
How to check backlinks?
We have many backlinks checker tools online but some popular is -
Ubersuggest
Semrush
ahrefs
Search backlinks in google search console
By using the Google search console you can only check your own website backlinks.
Step- 1 Sign up for free and verify the ownership of your website
Step- 2 clicks on the links.
The numbers of "External links" show the unique backlinks of your website or web page.
Below are three reports.
Top linked pages: The most linked pages on your website.
Top linking sites: The sites with the most backlinks to your website.
Top linking text: The most frequently used anchors when linking to your website.
If you're new to Search Console, start with the Top linked pages report.
Then click on any URL to see the website linking to a specific page.
Then click on any website to see which of its pages link to that page.
Search backlinks in Ubersuggest free backlink checker tool
Search backlinks in Semrus free backlink checker tool
Search backlinks in ahrefs free backlink checker tool
Just enter a domain or URL, and hit "Check backlinks."
You'll see the total number of backlinks and referring domains (links from unique websites), plus the top 100 backlinks.
For each backlink, you'll see a few details, including:
Referring page: The page linking to the target.
Domain Rating (DR) The strength of the linking website.
URL Rating ( UR ): The strength of the linking webpage.
Traffic: The total estimated monthly organic search traffic to the linking page.
Anchor and backlink. The anchor and surrounding link text.
To see the five most linked pages, check the "Top 5 pages" report.
NOTE.
The Top 5 pages report only works if you're analyzing a domain, not a webpage. To see a full list of backlinks for any page or website, us
Ahrefs Site Explorer
.
Final Thoughts
Although backlinks are very important and more backlinks are very useful but all backlinks are not equal value. High-quality backlinks are more good as compared to 100 low-quality backlinks. I hope you can find your answer about backlinks and if you have any other questions please write in the comment section.